베트남을 위해 달리는 한국의 포레스트 검프(코리아타임즈 20180910)
페이지 정보
작성자
(사)꿈을이루는사람들
댓글
0건
조회
1,097회
작성일

18-11-11 11:16
본문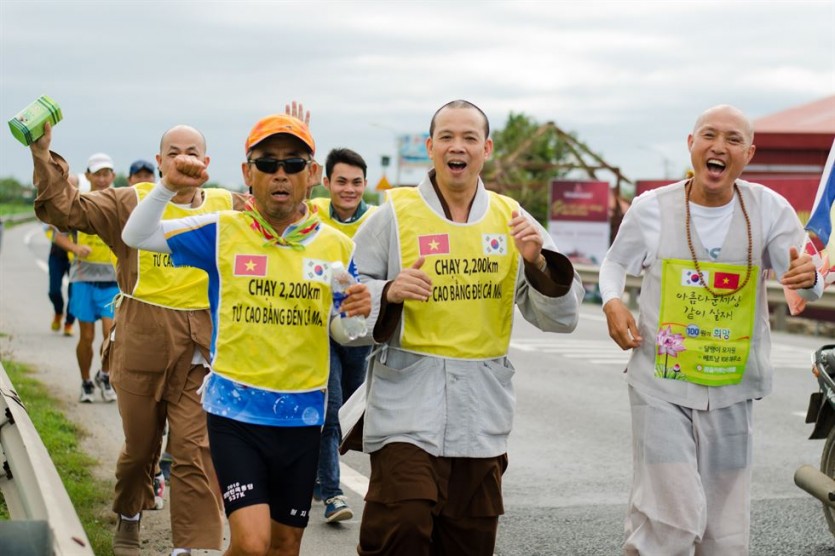 기사 원문 보기 : http://www.koreatimes.co.kr/www/nation/2018/09/113_255118.html
Ven. Jino's mission ― building 108 toilets in Vietnam ― includes Manhattan as charity marathon destination in 2020
By Ko Dong-hwan
Buddhist monk Ven. Jino is sorry for the atrocities South Korean soldiers committed against Vietnamese civilians during the Vietnam War.
South Korea sent about 320,000 soldiers to the war, the second-most following the United States. Some murdered and raped civilians and destroyed their houses.
The U.S. government paid the soldiers 6 million in appreciation of their "efforts," which also included neutralizing part of the Viet Cong presence in southern Vietnam.
More than 40 years after the war's end in 1975, a very different picture reflecting the bilateral relation can be seen across Korea. Instead of the Korean infantry divisions and Marine Corps dispatched to Vietnam, the Southeast Asian country's men and women, with non-professional working visas in hand, have moved to Seoul to escape poverty.
Ven. Jino, as one with remorse for his own country that didn't hold back from slaughtering innocent people for the good of its biggest ally, feels touched whenever he sees Vietnamese migrant workers in hardship. The 55-year-old monk's particular sympathy for the ethnic group has seen him dedicate his life to supporting them and their country.
"There are Vietnamese who are from the regions that had witnessed Korean soldiers' atrocities during the war," Ven. Jino told The Korea Times at Making Dreams Come True, a private establishment in Gumi, North Gyeongsang Province, that has been supporting migrants of various nationalities since 2000. "I reserve a special heart for them."
The center has three houses: one for unemployed workers without a home; one for women who fled harassing Korean husbands; and one for women with children who unexpectedly became single mothers. To support the center, Ven. Jino runs charity marathons. He has run about 15,000 kilometers across Korea, Vietnam, Germany, Nepal, Ecuador, Cambodia and Sri Lanka, 50 kilometers a day, since 2011. So far he has collected about 400 million won (8,000).
Korea's Hyundai Motors supported his overseas challenges five times, providing a 12-person minivan and a 21-person mini-bus for crew and equipment.
"If I didn't commit to running and only had words coming out of my mouth to promote my charity mission, that wouldn't have impressed donors," said Ven. Jino, whose soul-searching cause prompts images of Hollywood masterpiece "Forest Gump."